Geldeston Lock Restoration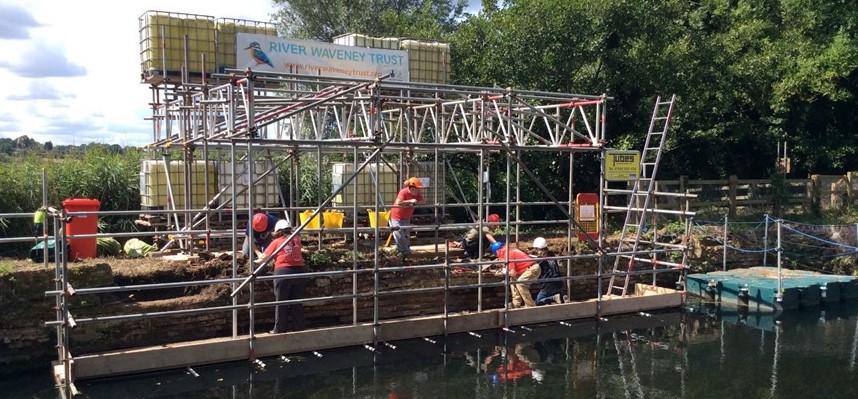 About
The lock is one of four built, following an Act of Parliament in the 1670, to enable commercial river trade beyond Beccles up stream to Bungay. The lock basin at Geldeston is the only one of the four remaining. 
Geldeston Lock stopped trading in 1934 and since then has fallen into disrepair. The wall on the south side of the lock has been badly damaged by vegetation and trees. There is some damage on the north wall but to a much less extent.   The lock gates have already gone, therefore, it is essential that this icon of the River Waveney's trading heritage is not lost.
The River Waveney Trust (RWT) started planning the project to save the lock in 2013 and work on site began in 2017. Between 2017 and 2019 three sections of the south wall were completed. It was not possible to work on the lock in 2020 because of the Covid-19 pandemic, but in 2021 we have completed the rest of the south wall.
The RWT has worked in partnership with the Waterways Recovery Group (WRG), who are part of the Inland Waterways Association.  The RWT has overall management of the project and the regulatory permissions, and our volunteers have worked tirelessly on the removal of vegetation, deconstruction of the wall and cleaning the masonry ready for reuse.  The WRG provide the bricklaying skills and their technical knowledge of lock construction has been invaluable.
The refurbished lock basin will provide a focus for community pride and become a destination for visitors to the Broads National Park.  We have an aspiration to see one of the Wherries moored in the lock as a fitting celebration of the lock's heritage.
Related links:
Restoration unearths buried treasure
Visit
The Locks Restoration project can be found at the Geldeston Locks Inn: Locks Lane, Geldeston, NR34 0HW
Volunteering
New volunteers are always very welcome.
Contact
Andrew Mackney
beccles@riverwaveneytrust.org